Florida has a hip culinary scheme which is why some of the best culinary schools in the United States are located here. Primarily famous for its beautiful beaches and sunshine climate, the city also has an incredibly vibrant food culture.
If you have a passion for culinary arts or want to start your restaurant someday, formal education in the field is the right strategy. This guide discusses how you can choose the best culinary schools in Florida. We will also list the top institutes to consider.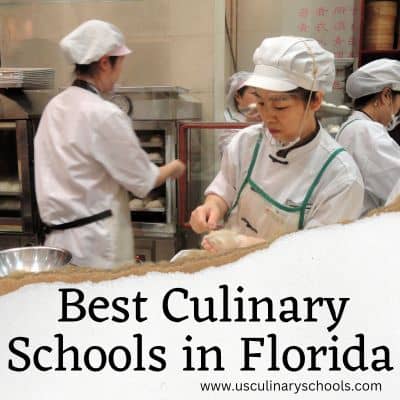 How to pick the top culinary schools in Florida? 
Here are the considerations that every student must be aware of before choosing a culinary school in Florida.
Accreditation is crucial. Look for schools that are accredited by recognized culinary education bodies. It ensures that the school meets certain standards and that your degree or certification will be recognized in the industry.
Check out the curriculum. Any culinary school you choose should offer a range of courses or at least domains that interest you. If you are not choosing a program that aligns with your culinary passions, you will be disinterested later.
Facilities matter. Visit the school if possible or take a virtual tour to see their kitchens, classrooms, and dining areas. Check if they have modern equipment and a conducive learning environment.
Consider the faculty. Look for experienced instructors who have worked in the industry. They bring valuable expertise and insights to the classroom. It's also great if the school has guest chefs or industry professionals who visit as guest lecturers.
Internship opportunities matter. If the school is not providing enough opportunities for internships or externships, you will not get enough real-world experience to develop your skills.
Look into alumni success. Research what former students are doing after graduation. Are they finding jobs in reputable establishments? Are they successful in their culinary careers? Alumni success is a good indicator of the school's effectiveness.
Cost and financial aid options. You must be able to afford the education. This is why you must consider a culinary school, where the tuition is affordable, to offer scholarships, grants, or financial aid opportunities.
Choosing the right culinary school is essential as it will decide your growth prospects. However, we have done most of the leg work for you and picked the best culinary schools in Florida.
Top culinary schools in Florida
Johnson & Wales University in North Miami, Florida, has excellent culinary programs like Baking and Pastry Arts, Culinary Arts and Chef Training, and Culinary Arts. The tuition cost is around $26,112, but the good news is they offer scholarships and financial aid awards totaling up to $10,782. The campus is set in a suburban area offering better internship opportunities.
Le Cordon Bleu College of Culinary Arts in Miami offers Baking and Pastry Arts, Culinary Arts, and Chef Training programs. And get this; the tuition cost is only $12,912. Plus, they offer scholarships and financial aid awards to help you with $2,473. The campus is in a chill suburban area, adding to the whole vibe. If you're into the culinary scene, this place is definitely worth checking out!
One of the culinary schools in Jacksonville, Florida, the Florida State College, can be great for Culinary Arts and Chef Training. It offers the most affordable culinary courses; the tuition costs only $2,076, and it provides scholarships and financial aid awards that can help cover about $1,594. The campus is set in an urban location.
The culinary school has programs like Baking and Pastry Arts, Culinary Arts and Chef Training, and straight-up Culinary Arts. The tuition cost is around $17,604, but the cost can be offset by scholarships and financial aid awards that can help slash that down by $1,319.
Another excellent college for pursuing a course in culinary arts, Gulf Coast State College offers several courses, and tuition here is about $2,024. Students can apply for scholarships and financial aid awards of up to $4,871. The campus is set in an urban area, making it one of the best culinary schools in Panama City, Florida.
These are not the only culinary schools but there are many more. Checkout our list of all culinary schools in Florida.
Why should you join a culinary school? 
Before you choose the top culinary school in Florida, you must ensure that you are aware of the benefits of formal education in culinary arts. Like any other career option, becoming a chef or starting your own restaurant requires some planning and preparation.
Culinary schools can be the best option to elevate your cooking skills to new heights. Here are some of the reasons to consider culinary schools.
A strong foundation 
When you join a culinary school, you put yourself on a path designed to help students with a comprehensive understanding of culinary techniques, food safety practices, and menu planning. You need these fundamental skills to become the best at preparing dishes that get you recognition and success.
Hands-on experience
A culinary school creates an environment that's similar to a real-life experience. You spend significant time in the kitchen, honing your culinary prowess with practical training and experimentation with ingredients and recipes. You need this immersive learning environment to develop culinary creativity.
Networking opportunities
Culinary schools boast extensive connections with local restaurants, hotels, and industry professionals. These invaluable networks present students with unparalleled networking opportunities, enabling them to forge connections with experienced chefs and glean insights from seasoned veterans. Such relationships can open doors to sought-after internships and coveted job placements, offering students a competitive advantage in launching their culinary careers.
Exposure to different cuisines
In a culinary school, you are exposed to various cuisines worldwide. Florida's best culinary schools introduce students to culinary traditions, ingredients, and cooking techniques.
Professional development
Beyond honing culinary skills, culinary schools encompass courses that delve into food business management, menu planning, and kitchen operations. These aspects are integral for aspiring culinary entrepreneurs or future restaurant owners, providing a comprehensive understanding of the industry's business side. A firm grasp of these crucial elements augments career prospects and empowers graduates to thrive in the multifaceted world of culinary arts.
Credentials
Attending a reputable culinary school imparts a sense of validation and credibility to one's culinary journey. Graduating from a distinguished institution amplifies the appeal of a resume and distinguishes individuals in the competitive job market. Moreover, certain culinary schools offer certifications that bolster credentials, demonstrating a commitment to professional growth and excellence in the culinary field.
Personal growth
Culinary schools nurture personal growth and self-discovery, extending far beyond the realm of cooking itself. Students develop vital life skills such as teamwork, time management, and the ability to thrive under pressure. These transferable skills equip graduates to excel not only in the culinary sphere but also in various facets of life.
Conclusion 
Culinary schools in Florida offer a mix of experience, learning, and career opportunities. The sunshine state has some of the best culinary schools in the country. You just have to ensure that you look for the accreditation, facilities, opportunities, and fee when picking up a school.
[/vc_column]